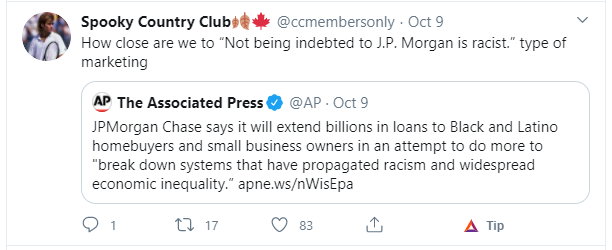 BANKS IN AMERICA ARE NOW MAKING IT EASIER FOR BLACKS AND LATINOS TO BUY PROPERTY AND HELPING TO FINANCE THE CONSTRUCTION OF AFFORDABLE RENTAL PROPERTIES FOR BLACKS AND LATINOS.
IF YOU'RE WHITE TOUGH LUCK. YOU'RE STILL TRAPPED IN THE HELLISH CENTRAL BANKING SYSTEM THAT IS DOING ALL IT CAN TO FINANCIALLY RUIN YOU AND MAKE WHITE LIVES A MISERY. CENTRAL BANKS, INTERNATIONAL CENTRAL BANKS LIKE THE IMF, GOVERNMENTS AND REALLY LOVELY, CARING ORGANISATIONS LIKE THE UN ARE ALL WORKING TO MAKE WHITE LIVES BROWN.
WAKE THE FUCK UP. REALISE WHAT IS GOING ON. CONSIDER HOW MUCH BETTER OUR LIVES COULD HAVE BEEN HAD OUR BOOMER PARENTS NOT BELIEVED EVERYTHING THEY WERE TOLD BY GOVERNMENT AND THEIR BOSSES, AND NEVER QUESTIONED ANYTHING.
REALISE THAT IF YOU ARE BRAVE ENOUGH TO MAKE AN EFFORT TO UNDERSTAND WHAT'S GOING ON IN THIS WORLD AND TURN YOUR FUCKING TELEVISION OFF AND CANCEL YOUR CABLE TV AND NETFLIX SUBSCRIPTION YOU WON'T JUST SAVE MONEY YOU WILL BE DOING YOUR BIT TO SAVE WESTERN CIVILISATION.
OH GO BACK TO YOUR FUCKING TV THEN.
Full racist article right here - https://apnews.com/article/race-and-ethnicity-small-business-charlotte-jamie-dimon-racial-injustice-3cf34a097380b3b0813a52994fbce648?utm_medium=AP&utm_campaign=SocialFlow&utm_source=Twitter