---
There is magic in everyday's things ...
---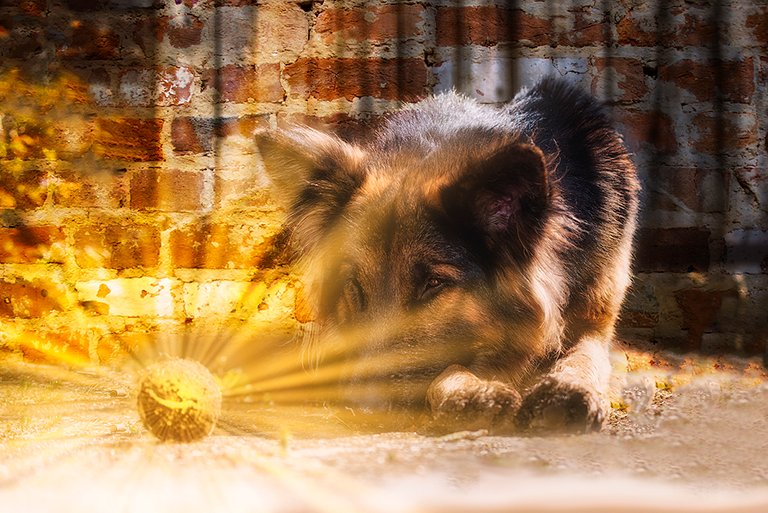 ---
The first Ladies Of Hive contest! Yeah! If YOU want to participate, I welcome you to do so, and to read the rules and see how easy it is to participate ... please read this announcementpost
Of course I have to participate myself
And as part of the mod squad I of course cannot pass this contest without participating myself. @brittandjosie thank you for the questions we can choose from this first round, and even though I thought at first I would definitely write a blog about what I would do if I got 100 dollars NOW… it suddenly occurred to me that I can maybe do better when I write about the last thing I used at home.


Yes, it may sound unbelievably boring, but it isn't.
I may live a quiet life in the countryside of a small village in the North Brabant Netherlands. My life is anything but boring. The three dogs in the house of course already keep me busy, and together with those dogs I experience enough.
Hell seemed to break loose
Like this morning. After the morning walk with the dogs it was quiet in the house and suddenly all hell seemed to break loose. Little Myla mouse started to growl, Lana started barking like an idiot and Skipper jumped around like a kangaroo. I wondered why all this was of course… but as long as that busyness still prevailed there was no possibility to calmly see what the problem was. There went my hope to have a QUIET cup of tea and have a moment to myself.
Couldn't hear my own thoughts
After I stood between the dogs, they jumped a little less like idiots, but still barking like crazy. And I still couldn't see what was going on. For that I had to make some space first, and all three dogs thought they should tell me what was going on now. Talking to your dog is one thing, but believe me… 3 shepherds who want to talk to you at the same time make you can't even understand yourself and you can't hear your own thoughts anymore.
Find the cause of all the trouble
"SILENT now". I had to wait a while and after a few more small barks and some protest from my darlings they finally kept their jaws together just long enough so that I could also make it clear that they had to step aside so that I could find the cause of all the noise. And after Myla was kind enough to step aside, it was made clear to me by Skipper who flew like crazy on the tennis ball that Myla had apparently smuggled in after the walk.
A tennis ball inside the house
Oops, a little moment of attention from me… I had to make a silent appointment with the dogs for my own peace of mind, As soon as you are outside you can play with all the tennis balls available, as much as you want… but NO TENNIS BALLS inside the house.
I want to prevent fights
Why not? Well for the very simple reason that all three of my sweethearts have a certain urge to possess. All three of them can handle this well outside, but as soon as they have a tennis ball inside, all three go into 'guard mode'. They guard that one ball and as soon as one of the other dogs gets too close to them, they growl at each other. Of course, the other dog does not give up because even if they all three have a ball, they must have ALL balls. So they keep bothering each other to collect those balls. Such a ball really seems to have magical appeal for my furry babies. Now that is not so bad in itself, but I also know from experience that if I don't pay attention to this… that fights can also arise.
The pack is not completely balanced yet
When I still had Rowan with the ladies, this was not an issue because he made sure that my 2 bitches remained calm and would not fight. But Skipper is a different dog, and still very young! Rowan was a calm dog who was accepted by the two ladies as a pack leader. Skipper is a young strong male, but has yet to learn how to control the ladies. And he is not yet accepted as a pack leader. Although he does his very best for that. In terms of strength, he can easily beat both ladies. But he is not yet mature spiritually, and that makes him subordinate to Myla at the moment.
It just takes time to grow
With which, at the moment, no complete balance has been reached in the pack. This is something that I naturally took into account when I placed a young male with my two girls. This just takes time, and luckily we've come a long way since February. The first days Skipper was accepted by both ladies, after that Lana in particular turned 180 degrees and she did not want to know anything more about Skipper, and he all the more about her. Meanwhile, there is a tacit agreement between the dogs that they accept each other and Myla and Skipper have really made friends and I often see the two lying together. Lana and Skipper have a lot of fun playing together, but once Lana is in, Skipper has to leave her alone.
Get the ball and most busy dog outside
And something as small as a ball inside can therefore also be total enough to let the shaky balance between the dogs fall over for a moment. After I had discovered the problem, it was just a very quick reaction… And to let the peace recover, Get the most busy and guarding dog with the ball out.
But wait, you would tell us about;
"What is the last thing I used at home" ...
Yes ... I had to tell you the whole story. But now I'm coming to that part! And you'll maybe surprised. Because the last thing I used at home is ...
The kettle!
Because after throwing the ball out, I quickly turned on the kettle to finally be able to make that cup of tea for myself… and drink it outside with Skipper. He enjoys the ball that has such a magical appeal to him. And I enjoy a hot cup of tea outside in fairly cool temperatures!

@puga @thisismylife @kotturinn @isaria Maybe you girls like to enter this contest for the "Ladies of Hive Community" too? If not, all good. I just fulfilled a part of the rules with inviting you to join.