---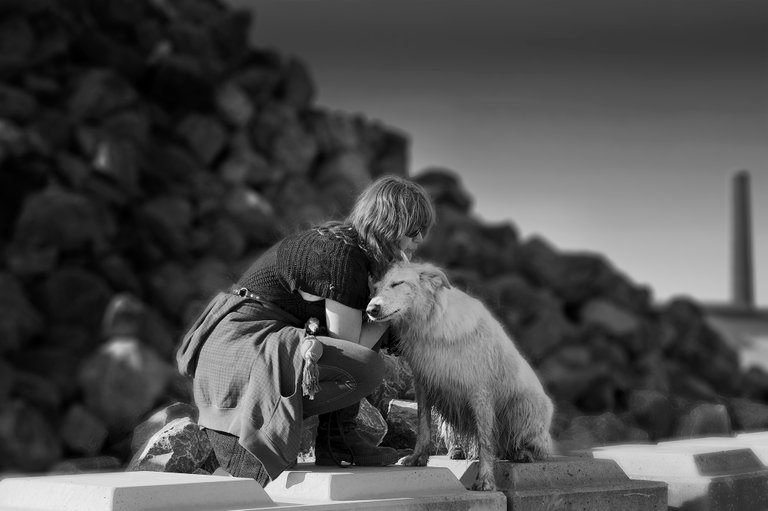 ---
Some changes I didn't want to happen
It's no secret that time flies. It's a good thing that a lot has changed in one year. But some of those changes I didn't want at all. And those changes have made me feel a little lost in the past few days. Lost in my memories. It has been already, and at the same time, only a year since Rowan underwent surgery. He underwent his surgery on August 30, 2019. Not knowing then that it was a very malignant tumor… Then I still had the hope that as soon as my big white boy was recovered from his operation, he would be the old Rowan I always had known. And that he would be with me for at least a few more years.
8-centimeter diameter tumor
And how much I would have given to have had him with me longer. Unfortunately, things turned out differently. He was operated on August 30. On August 31, I was told that they had removed an 8-centimeter diameter tumor, that the cut edges were clean, but that the margin was very tight. Even then it was not yet known that it was a malignant tumor. The tumor had been sent to the laboratory for examination. Against my better judgment, I persisted in hoping and believing that Rowan would be spared further misery. After all, he had had enough of his surgery.
Unfortunately a very deadly malignant tumor
Once he got through the first few days, he recovered quickly, and it really seemed for a moment that he would have the luck I was so hoping for. Unfortunately that turned out to be different. The results of the laboratory examination came in and this showed that Rowan was not dealing with a benign tumor, but unfortunately a malignant and also the most deadly variant a dog can get. The survival time was usually no more than six months after diagnosis.
---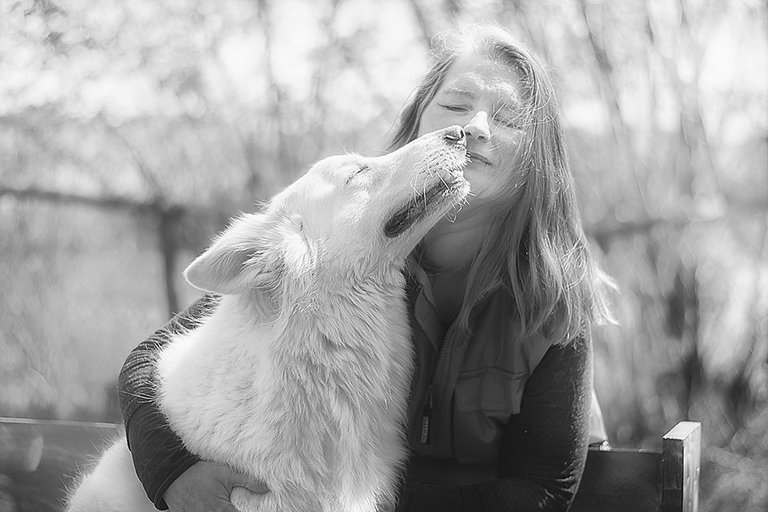 ---
Not my everything
It was as if the ground was being knocked out from under my feet, but at the same time I couldn't and wouldn't believe it. I watched Rowan happily running around in the yard with Myla and Lana at the time and just couldn't imagine he wouldn't be there half a year later. Not my big strong white friend. Not just the one dog that was so important to me. Not my everything!
Cancer had taken possession of Rowan
But as much as I loved Rowan, and as much as Rowan loved to be with me, we both had to acknowledge our superior in the cancer that had taken possession of him. 2 weeks after the laboratory result 5 weeks after his operation the vet came for a final follow-up. And no matter how well Rowan did, no matter how well he seemed to feel ... at that moment the vet noticed the first metastases, or new tumors. And at that moment his death sentence was pronounced. Rowan couldn't survive this, and it was rather a matter of weeks, if months. The vet assumed that he would still make it to the new year, but he did not dare to look much further than January.
Pushing away the lingering grief about the impending goodbye
The moment I heard that I cried like a little child, but not for long. Because I also resolved to enjoy every moment with Rowan as consciously as possible. Living in the now, living with the day and what came later, I would deal with that when the time was there. I pushed away the lingering grief about the impending goodbye… and the days were all about enjoying every second I could spend with Rowan. And of course not only Rowan but also Myla and Lana.
It was Lana who pointed out Rowan's tumors were growing
And the girls did notice there was something wrong with Rowan. First with his operation what they had noticed very well. But then it was Lana who pointed out that Rowan's tumors were growing. More and more I saw Lana sniff Rowan's ass, and then when I started to feel where she was sniffing, I invariably felt another lump. Poor Rowan underwent the many sniffing of the girls and the much feeling of me, was meanwhile still his cheerful self and at least did not show that he was suffering.
I closed my eyes for the first showing signals
The days flew by and at times I even managed to forget that Rowan was living on borrowed time. After all, my big boy was cheerful as always. I closed my eyes to the fact that I did see signs that he was deteriorating.
With every week he walked a little slower
Before his operation, he no longer walked well during walks, and he continued to dawdle more and more. After his operation this was completely over and he ran ahead of me as usual. I ignored the fact that every week he walked a little slower and had to be encouraged to walk along. Other than that, Rowan was not noticeable suffering and he was still happily playing in the garden.
Lana attacked Rowan
By now it was December and it was becoming increasingly difficult for Rowan not to show that he was suffering. And it became more and more difficult for me to close my eyes to what was going on. Despite the grief I was beginning to feel, I didn't want Rowan to suffer, but I had to admit that I now had to be very careful not to do that to him. And then one night I was shaken awake by a situation that could never have happened if Rowan had been in good shape. Rowan was on the floor in front of the sofa, where he often lay, and Lana was on the sofa. I was sitting at my PC and Rowan wanted to get up and lie at my feet. As he passed Lana she jumped to her feet and attacked Rowan. I was shocked by this incident, but mainly because Rowan did nothing in return. He pulled his tail between his hind legs and walked shyly towards me. A Rowan in good spirits would never have let this go, and Lana knew this better than anyone.
---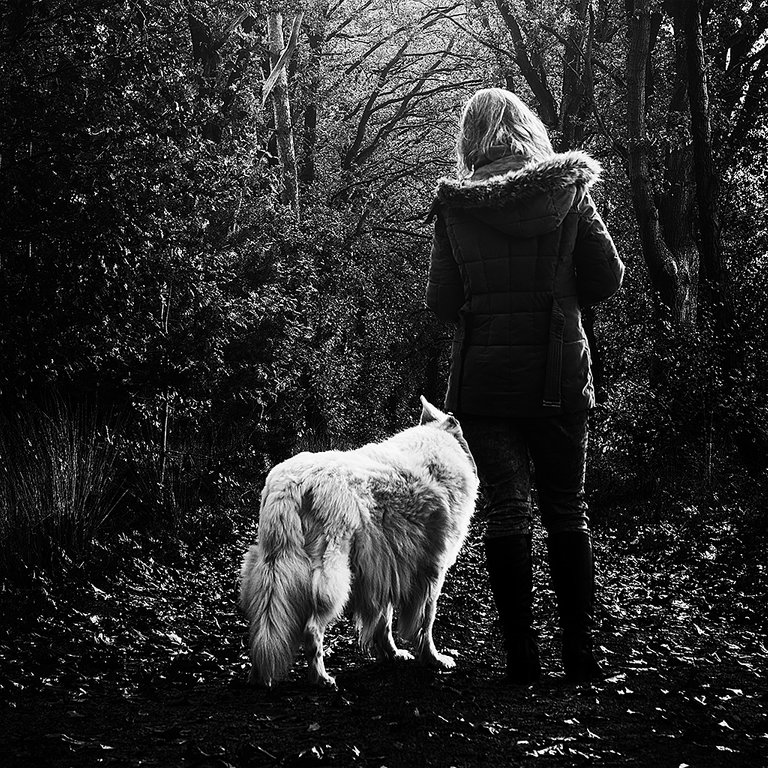 ---
I felt the end had come
This was a signal that I could no longer ignore. Sad as it was, the time had come to call the vet again for a check-up. And that was fixed on December 21, 2019. Despite the fact that no final decision had been made, I felt that the end had come. And the very last evening it was again made clear to me by the dogs. For 11 years I fell asleep with Rowan faithfully at my foot end on the bed. And that last night, Lana was the dog that lay at my foot. Not Rowan. He lay next to the bed, put his snout on the bed for a moment, but did not lie down next to it as usual. Lana looked at him, and I know if Rowan had tried to get on the bed, she would have flown back at him. It's not fun, it made me very sad, but it is a natural process. A pack can only survive with the strong members, the weak members are rejected. And that was exactly what Lana did to Rowan. She took over his place in the pack. She made it clear to him in every way she could find that SHE was now the stronger of the two and Rowan had nothing more to say.
I didn't sleep that last night
Rowan, in turn, felt he could no longer win the battle with Lana and resigned himself to this. Literally. Whatever I tried that last night, he did not lie on the bed and stayed next to the bed. His look told me he was comfortable that it was good for him. But for me it was not good at all. I didn't sleep much that last night.
Without Rowan
The next day at the vet's visit, I already felt what was going to happen and soon my feeling was confirmed. Rowan's tumors had grown excessively and it was a miracle that he could still defecate. But it was now only a matter of hours to days before he couldn't poop anymore ... and the risk of a rupture of his intestines was lurking. The vet confirmed that Rowan did not appear to be suffering NOW, but that this could no longer be guaranteed. I had to forget about myself, but had to make the hard decision to put my best friend to sleep. Forever. Without Rowan ...
That same afternoon at 3 p.m. Rowan fell asleep peacefully… my heart was broken and my world emptier and grayer.
8 months without Rowan
We are now 8 months later, and I still miss Rowan every day. The grief wears off but the loss remains. And on some days, like now the memory of the operation, the beginning of the end, yes on those days the sadness comes back to the surface.
Then I feel lost in memories for a moment.
Despite the tears that have shed today, I am especially grateful for the 11 wonderful years we have had together. I wouldn't have missed them… for nothing.
Rowan… you are and will remain… MY FOREVER HERO
---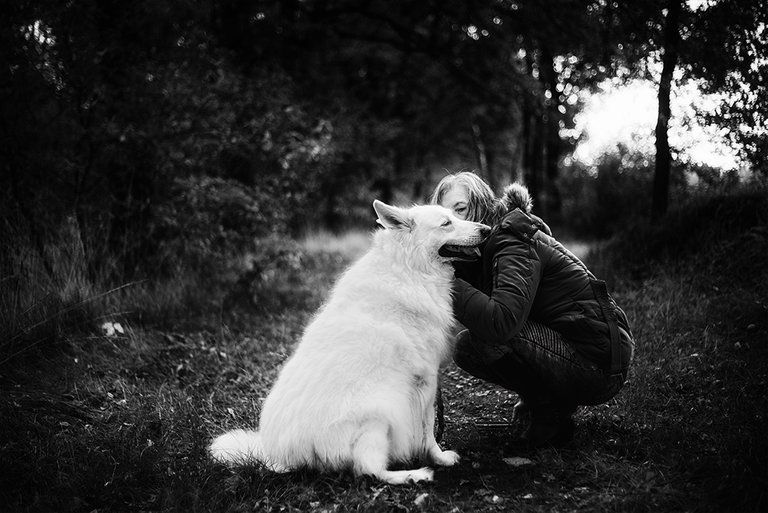 ---
Forever Hetty-Rowan