Hey Jessocialists
Bitcoin seems to be entering the next stage in its evolution with companies acquiring it either as an alternative offering for customers or as a store of value on their balance sheet. The idea of the free markets solution to money has begun to take hold in new areas other than retail and individual speculation.
Bitcoin entering the business world offers us an exciting dynamic of FOMO. As was the case with retail investors, those who got into BTC early, enjoyed a lot of the upside and others FOMO'd in.
The next phase in Bitcoin adoption
If this case is to be repeated in the business world, you'll see more businesses start to stack Bitcoin on their balance sheet or augment their product offerings to attract customers. As we wait to see this next phase unfold, I've been thinking about how this would knock on and lead to the next step.
If businesses in various countries begin to adopt and offer Bitcoin-related services, and they begin to flourish. They naturally provide competition to the issuer of the currency in that country.
Any amount of large scale economic activity is seriously going to impact velocity of money, tax receipts and inflation in that currency.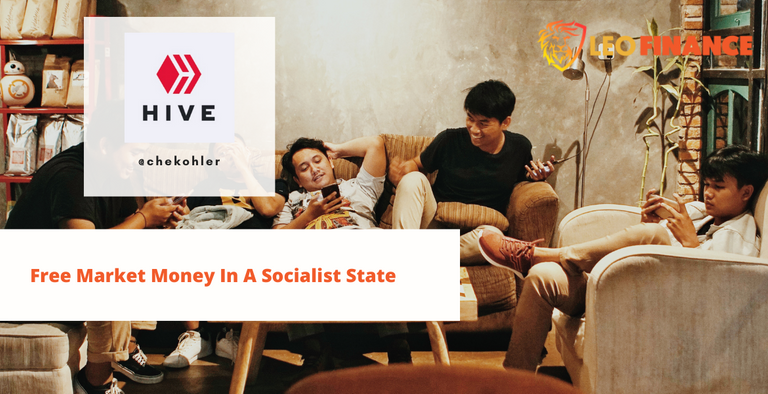 The socialist side of life
Living in South Africa, I know all about the fabulous utopia: socialism and the promise of free stuff. At the same time, we don't have the worst implementation of it the worlds ever seen.
It often starts off that way and decays with time. Democratic socialism or socialism lite usually requires more policy, more restriction and more money printing to keep it going.
Socialism lite can quickly become socialism dark.
I am not saying that you can't have some socialist policies, or that capitalism is some panacea, but I know that mismanagement and central planning go hand in hand.
One of the reasons I think we cannot gauge the effect of socialist policies or any policies before its too late is because we've never had a way to measure its impact in real-time. It's always easy to say hey we gave so many people free education, but we cannot see the cost, because currencies can be manipulated.
Impeded economic activity
Regardless of where you stand on the economic and political spectrum, I think it's pretty evident that the more socialist policies and central planning you have in your country, the more it harms your currency.
I am not saying that you shouldn't sacrifice your currency for the greater good at times, but like anything the more you use it, the fewer returns you get.
The more you burn your currency through inflation, the less it can impact your economy positively and even starts to bring negative returns.
Previously we had no option but to accept the policies of the government and their mismanagement. Still, now with Bitcoin, we are starting to have a measurement tool that shows the real extend of the monetary and fiscal policy of your country.
Getting pegged back
Having floating currencies built on debt allows for so much misunderstanding around what value is and how purchasing power works.
Now that we have a new peg forming in Bitcoin, I think it not only exposes the sham that is fiat currency but also the government policies put in place with the help of these currencies.
This could be the peg we need to keep government spending in check, who knows? But having the ability to opt-out and bank run your country seems like a powerful tool and a vote that has actual meaning.
Have your say
What do you good people of HIVE think?
So have at it my Jessies! If you don't have something to comment, comment "I am a Jessie."
Let's connect
If you liked this post, sprinkle it with an upvote or esteem and if you don't already, consider following me @chekohler and subscribe to my fanbase
| Safely Store Your Crypto | Deposit $100 & Earn $10 | Earn Interest On Crypto |
| --- | --- | --- |
| | | |
---

Posted Using LeoFinance Beta