Hey Jessinvestors
Cryptocurrency is still a minority investment, very few people own this asset class, and even fewer people care about it. A large majority are just here to gamble and make some money they don't even take a look at underlying fundamentals or what the plan for the market is, it's all about grabbing cash and does give a Ponzi like theme to it.
This to me is a feature not a bug, a way to obfuscate what is being built in the background while price mania takes the media and regulators attention.
I hear plenty of detractors saying Bitcoin is backed by nothing and is going to zero, and that's fine, there's a lot of money that can go zero, stonks, bonds, fiat currency, yet here we are and continue on.
Additionally, If cryptocurrency is doomed to fail, why even bother regulating it? Wouldn't it with time-kill itself? Surely you're wasting your time beating a dead horse right?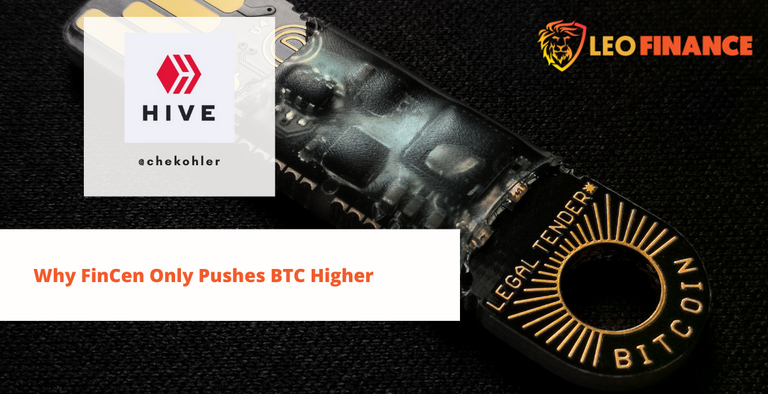 What's this FinCEN nonsense all about?
So departing Treasury Secretary Steven Mnuchin-Putin wants to fire some shots before he leaves office by first wanting to enforce cold and hot wallet storage to have KYC with exchanges before people can draw their capital out of exchanges.
Rightly, its no ones business how much crypto you own or the value yet these nutters feel they need to know, like a jealous 17-year-old girl screaming for the password to your phone.
Lately, we've heard that they're trying to push it even further with U.S. citizens having to report cryptocurrency accounts held with foreign institutions if they are more than $10,000 in value.
What if you bought $5000 of a coin and it doubles, now suddenly you need to disclose this? That's dumb, it's not my fault the dollar is getting debased and demand for scarce assets rises.
I still have the same amount of crypto I paid 5k for, it just seems like they're trying to find ways to keep a lid on crypto-like they do with precious metals, here's looking at you JP Morgan and Scotia Bank.
Bans trade at a premium
We've seen countries lay down bans on Bitcoin in the past with both China and India trying to implement it and all they did was push the price up in their country as scarcity drove a premium on the price.
This puts your country at a disadvantage and any business wanting to leverage crypto, will have to move to remain competitive. This means you kill a growing part of your countries tech sector and ship it to competitive nations to make them stronger.
As soon as the narrative of lost jobs from bans takes hold, it's hard for governments to reinforce it, not that they can't. We've seen how desperate governments can get to retain power, such as Venezuela, Lebanon and North Korea being extreme examples, but you might be surprised at how far your government is willing to go if they feel threatened.
A bank run on exchanges
If regulation like this does pass, you'll see some rightly sell their crypto to appease their overlords while others pull off a steady bank run and pull crypto off exchanges before its too late and secure their positions in cold and hot storage.
We'll see the testing of the solvency of exchanges, while mining operations may opt to sell their coins at a premium on the DEX market versus the current central exchanges since they'll get a better price for their coins.
Who will follow the leader
You best believe if the US pushes this through the cronies in other countries may want to follow the blueprint, so you best watch out and make sure you store your crypto in wallets where you have the seed phrase ownership.
Other countries, like my own IF, and this is a big IF they are smart would not follow this as we've been crushed under dollar dominance for years and it's an opportunity to break away from that and attract capital and skills investment.
The smart money moves to where it gets the most freedom, so where will that be? It remains to be seen which countries will side with crypto and which will side with a new Bretton Woods.
Have your say
What do you good people of HIVE think?
So have at it my Jessies! If you don't have something to comment, comment "I am a Jessie."
Let's connect
If you liked this post, sprinkle it with an upvote or esteem and if you don't already, consider following me @chekohler and subscribe to my fanbase
| Safely Store Your Crypto | Deposit $100 & Earn $10 | Earn Interest On Crypto |
| --- | --- | --- |
| | | |
---

Posted Using LeoFinance Beta