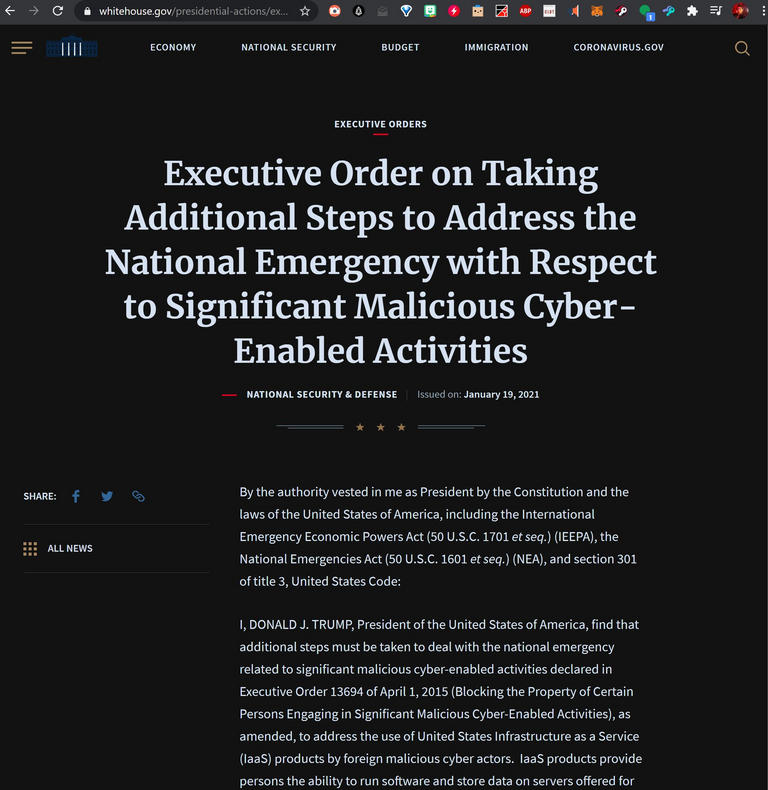 I, DONALD J. TRUMP, President of the United States of America, find that additional steps must be taken to deal with the national emergency related to significant malicious cyber-enabled activities declared in Executive Order 13694 of April 1, 2015 (Blocking the Property of Certain Persons Engaging in Significant Malicious Cyber-Enabled Activities), as amended, to address the use of United States Infrastructure as a Service (IaaS) products by foreign malicious cyber actors. IaaS products provide persons the ability to run software and store data on servers offered for rent or lease without responsibility for the maintenance and operating costs of those servers
https://www.whitehouse.gov/presidential-actions/executive-order-taking-additional-steps-address-national-emergency-respect-significant-malicious-cyber-enabled-activities/
Accordingly, I hereby order:
Section 1. Verification of Identity. Within 180 days of the date of this order, the Secretary of Commerce (Secretary) shall propose for notice and comment regulations that require United States IaaS providers to verify the identity of a foreign person that obtains an Account. These regulations shall, at a minimum:
(a) set forth the minimum standards that United States IaaS providers must adopt to verify the identity of a foreign person in connection with the opening of an Account or the maintenance of an existing Account, including:
(i) the types of documentation and procedures required to verify the identity of any foreign person acting as a lessee or sub-lessee of these products or services;
(ii) records that United States IaaS providers must securely maintain regarding a foreign person that obtains an Account, including information establishing:
(A) the identity of such foreign person and the person's information, including name, national identification number, and address;
(B) means and source of payment (including any associated financial institution and other identifiers such as credit card number, account number, customer identifier, transaction identifiers, or virtual currency wallet or wallet address identifier);
(C) electronic mail address and telephonic contact information, used to verify a foreign person's identity; and
(D) Internet Protocol addresses used for access or administration and the date and time of each such access or administrative action, related to ongoing verification of such foreign person's ownership of such an Account;
Hive Accounts VERIFIED by @dan larimer Voice.com system as LAW to host DATA in the USA, like a more free version of the Chinese firewall but where you can use a TELOS account with US CITIZENSHIP.