https://www.bitchute.com/video/LKYcaowsO693/
BitChute (https://www.bitchute.com/video/LKYcaowsO693/)
WHITE HOUSE CLOSED FOREVER AS THE TRUTH COMES OUT - LAS VEGAS MEETING REVEALS ALL TO THE PATRIOTS
The whole world will know between March and April, 2021 all the lies they have been told by mainstream media.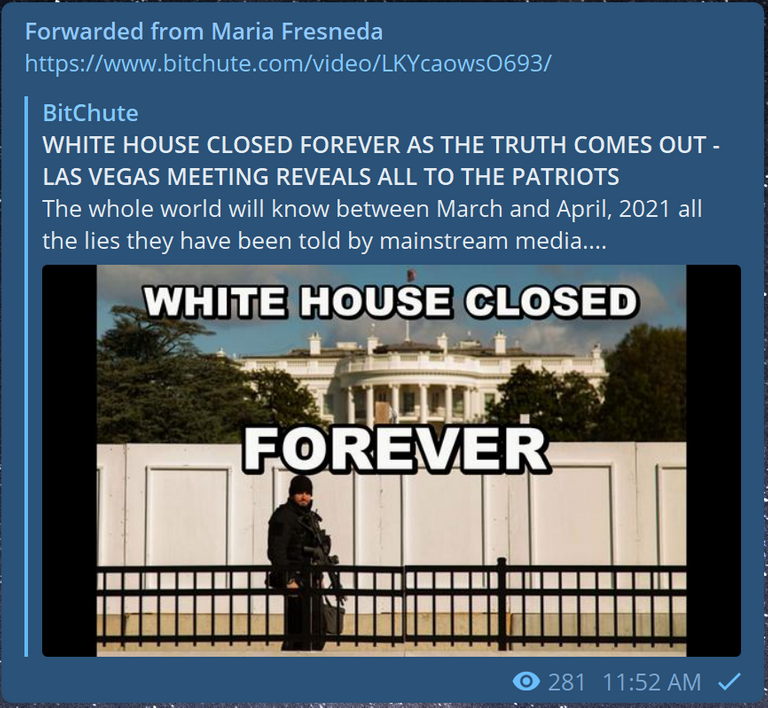 VIDEO from here! https://t.me/projectcamelot/27267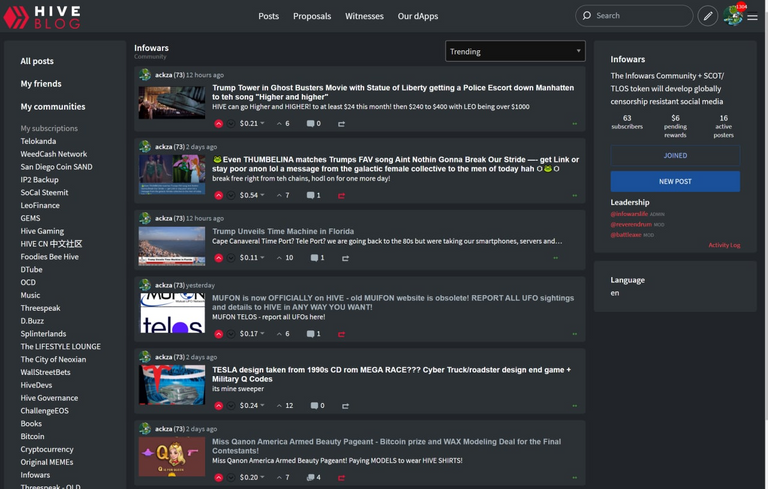 We can go to Mars as soon as Elon mines enough gold to pay the anunaki to procedurally render the planet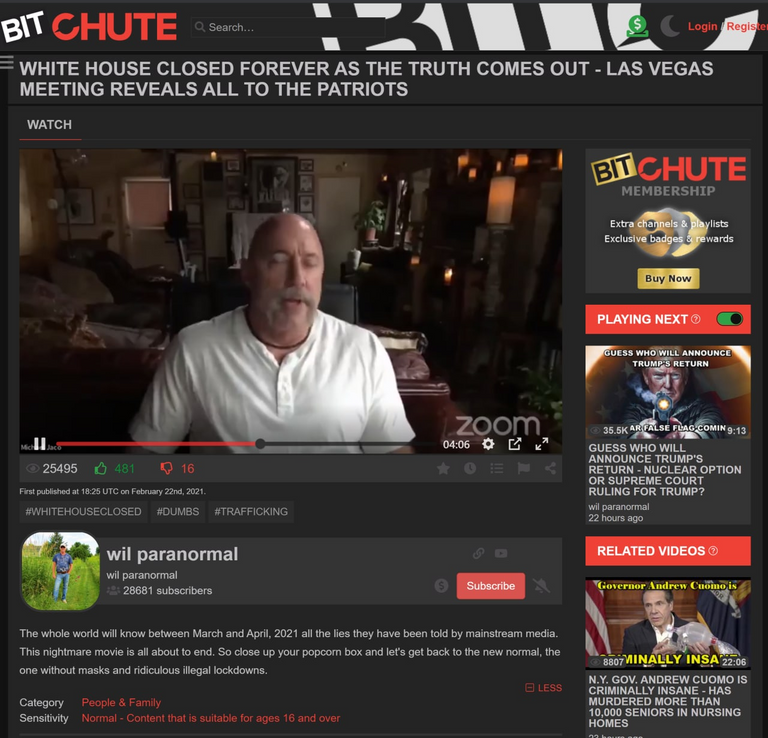 This nightmare movie is all about to end. So close up your popcorn box and let's get back to the new normal, the one without masks and ridiculous illegal lockdowns.
⭕️𒀖Ackza⏳SAND💎TLOS🟣KANDA☀️eos𒀖: zackzackzack Telos Kanda EOSIO HIVE, [22.02.21 12:31]
I think now woudl eb a good time to invite Black Lives Matters to just LIVE at the white house like the CHAZ in Seattle. CAPITOL HILL AUTONOMOUS ZONE but where the MILITARY is the police so everyone behaves and theres no seattle style anarchy and rape and looting just paceful art and grafiti and painting murals etc
⭕️𒀖Ackza⏳SAND💎TLOS🟣KANDA☀️eos𒀖: zackzackzack Telos Kanda EOSIO HIVE, [22.02.21 12:32]
all the best artists of BLm should be allowed to just come to the new museum white house and just dismantle it and make it look like fucking Soul Plane , i dont care give it to the poor african americans IN DC area they deserve to party in these giant buildings
⭕️𒀖Ackza⏳SAND💎TLOS🟣KANDA☀️eos𒀖: zackzackzack Telos Kanda EOSIO HIVE, [22.02.21 12:33]
can you imagine hahaha they will be Kangz , like i wanna see peopel have a peaceful DANCE party at the Lincoln Memorial playing Bobbie Brown and nice 80s black music, tiem warp style, make poepel pay liek a real music festival oprganized by INSOMNIAC entertainemnt or EDC peopel hahahaha
⭕️𒀖Ackza⏳SAND💎TLOS🟣KANDA☀️eos𒀖: zackzackzack Telos Kanda EOSIO HIVE, [22.02.21 12:33]
hey theyll make a mess but no destroying monuments and they have clean up crews lol
⭕️𒀖Ackza⏳SAND💎TLOS🟣KANDA☀️eos𒀖: zackzackzack Telos Kanda EOSIO HIVE, [22.02.21 12:34]
Also I think Black Peopel in DC should be allowed to have a big DANCE PARTY inside the OLD NOW DEFUNCT BANKRUPT federal reserve Building , a BIG RAVE at the FED to TREALLY show people whats up around the world
lol rolling stone is revealing they protect pedophiles
https://www.rollingstone.com/culture/culture-commentary/cuties-netflix-far-right-controversy-pedophilia-1057736/

they think the right is "obsessed with pedophiles" as if pedophiles are no big deala nd deserve to live? Nah theers gonna be a lot of collateral damage in this global war on pedophiles and sex trafficking and human slavery. shut and sit down and deal with it you piece of shit
were going to kill anyone who is even SUSPECTED of beiong a pedophile and when tehers evidence, then we torture. This is a war!
https://en.wikipedia.org/wiki/Sound_of_Freedom_(film)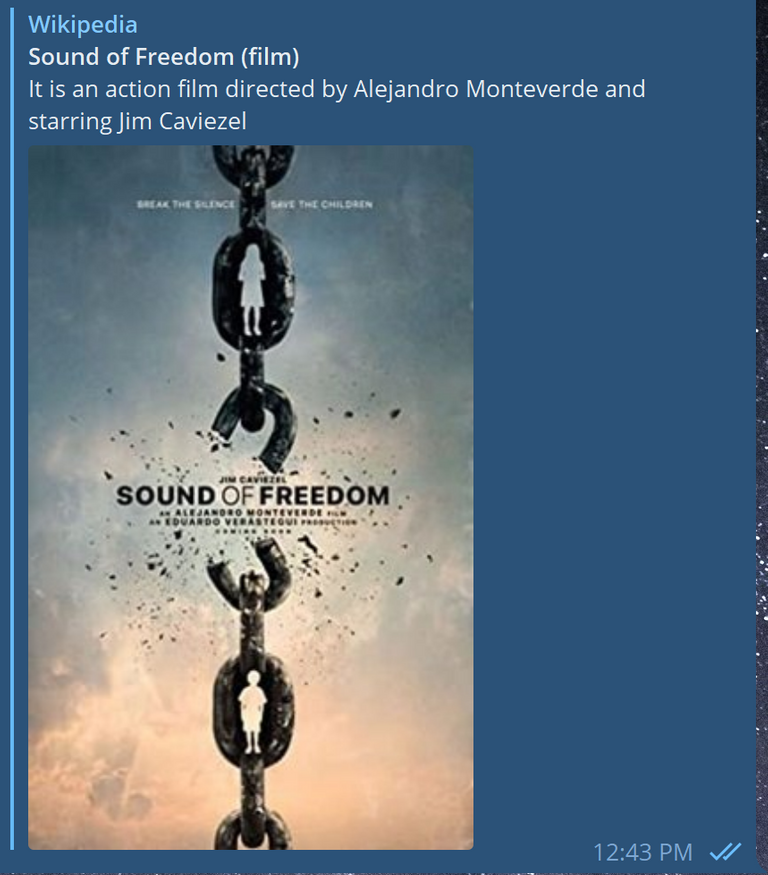 Sound of Freedom (film)
From Wikipedia, the free encyclopedia
Jump to navigationJump to search
Sound of Freedom
The Sound of Freedom Poster.jpg
Directed by Alejandro Monteverde
Produced by
Camilo Buendia
Jim Caviezel
Eduardo Verastegui
John Paul DeJoria
Jaime Hernandez
Leo Severino
John Couch (Co-Executive Producer)
Screenplay by
Rob Barr
Alejandro Monteverde
Starring
Jim Caviezel
Mira Sorvino
Bill Camp
Music by Javier Navarrete
Cinematography Gorka Gómez Andreu
Edited by Brian Scofield
Production
company
Santa Fe Films
Distributed by 20th Century Studios Video
Country United States
Languages
English
Spanish
Sound of Freedom is an upcoming action film[1] directed by Alejandro Monteverde. It stars Jim Caviezel, Mira Sorvino, and Bill Camp. The film tells the real-life story of Tim Ballard, played by Caviezel, who quit his job as a Special Agent with Homeland Security Investigations (HSI) to help save the lives of thousands of children from human trafficking.
Contents
1 Plot
2 Cast
3 Production
3.1 Pre-production
3.2 Filming
4 References
5 External links
Plot
Sound of Freedom tells the story of Tim Ballard, a former CIA operative, who quits his job as a Special Agent with Homeland Security Investigations (HSI) to save children from cartels and human traffickers.[2] It takes a look into the child trafficking in Latin American countries, especially Mexico.[3] Ballard calls himself a modern day abolitionist[4] and in addition to saving these children he wants to get rid of the problem at the root. He says that America is the biggest consumer of this evil.[5] The story will show how Ballard went to Columbia to rescue 127 children from sexual abuse and misery.[6]
The film also tells the story of a person called "Batman" who teams up with Ballard in an attempt to free enslaved children and capture and imprison those who sell children into sex slavery.[7] Batman, played by Bill Camp,[8] who worker for drug cartels before teaming up with Ballard, was essential in O.U.R. setting up sting operations, which Caviezel goes undercover for. It also goes behind the scenes into Ballard's own family and how it is because of his children that he knows he is called to do this kind of work. Throughout the film Ballard's wife, Katherine, played by Mira Sorvino, is his backbone and support. Lastly, the film shows that Ballard ended up adopting two children that he saved from an operation, which is also interesting given the fact that Caviezel too has adopted children.[9]
Cast
Jim Caviezel as Tim Ballard
Mira Sorvino as Katherine Ballard
Bill Camp as Batman
Kurt Fuller as Frost
Gary Basaraba as Earl Buchanan
José Zúñiga as Roberto
Gerardo Taracena as El Alacrán
Scott Haze as Chris
Eduardo Verástegui as Paul[10]
Production
Pre-production
Jim Caviezel, before the shooting of the film, spent several days shadowing Tim Ballard and learning about Operation Underground Railroad's operations. He was able to go to Latin America and witness an operation led by Ballard himself.[11]
Ballard founded O.U.R. after leaving the Government in order to combat the problem of sex slavery. He founded it to give him the ability to conduct operations that he was not able to at the government.[5] He now acts as the CEO of O.U.R., which is conducting operations and saving children to this day all over the world, from Latin America[12] to the Middle East.[13] Ballard estimates that O.U.R. has saved the lives of 4,000 children.[5]
The film is scored by the Spanish composer Javier Navarrete.[14]
Filming
Principal photography began in the summer of 2018. While some of Sound of Freedom was shot in the United States (Calexico, California),[15] most of the film was shot in Cartagena, Colombia,[16] which is a country that has a grave problem of human trafficking.
Jim Caviezel has stated that this was the second most important film he has ever done.[17] He ranks it behind his role as Jesus Christ in The Passion of the Christ (2004).[4] Tim Ballard personally requested that Jim Caviezel portray him in the film; the producers were taken aback by the request and tried to convince him to select an actor who more closely resembled him.[13][17] However, Ballard was steadfast, saying that he was affected by Caviezel's roles in The Passion of the Christ and The Count of Monte Cristo.
References
"Sound of Freedom (2020)" – via www.filmaffinity.com.
"Sound of Freedom trailer released, focused on the fight against child exploitation".
"Operation Underground Railroad to be featured in new film 'The Sound of Freedom'".
"Jim Caviezel Stars in Hollywood Movie About Latter-Day Saint and Former CIA Agent Tim Ballard". LDS Living. September 10, 2018.
"The Candace Owens Show: Tim Ballard".
"Jim Caviezel and Eduardo Verástegui join forces in a new film about child trafficking".
"Blockchain Platform TaTaTu to Co-Finance 'Sound of Freedom'". The Hollywood Reporter.
"Sentient Pacts With The Washington Post On Film About Police Dog Who Sniffed Out Colombian Drug Cartel".
"Jim Caviezel and wife respond to God's call, adopt two children".
"Actuará al lado de Jim Caviezel". November 1, 2019.
"Jim Caviezel Set to Play Role in Operation Underground Railroad Story 'The Sound of Freedom'".
"Sound of freedom".
Borchert, Brittany (September 12, 2018). "Jim Caviezel Plays Tim Ballard in "The Sound of Freedom"".
"Javier Navarrete Scoring Alejandro Monteverde's 'Sound of Freedom'".
"PressReader.com - Your favorite newspapers and magazines". www.pressreader.com.
"Cartagena: A gorgeous location for movie makers".
Toone, Trent (June 4, 2018). "Actor Jim Caviezel set to play second most important role in O.U.R. story 'The Sound of Freedom'". Deseret News.
External links
Sound of Freedom at IMDb
Sound of Freedom at Rotten Tomatoes
"Sound of Freedom". on The Numbers
Categories: Upcoming films