Hey Jessrisk takers
I might not be the most significant account on this platform, I might not be the most rewarded, but I sure do get some great comments from my Jessies who decide to read my content, quality over quantity and vanity metrics I suppose.
I even get a few comments on my back catalogue of posts, which is crazy because lol how did you also find it? Clearly finding yourself in zones, that you're not generally in I suppose.
@creativemary's comments recently inspired me to write this post so props to her, lol I was running thin on rants anyway and you've got to give the people what they want, they need mindless content to engage with, feed the beast!
External drives vs internal drives
Since I work on traditional social media, I'm often amazed at the garbage people will interact with and when compared to long-form content that has something to say. It's evident how people find their comfort zones and aren't going to leave it unless theirs a dramatic change in external factors. The majority of people would not leave their comfort zones from internal factors if they did, we'd see less conformity.
The fact is we're hard-wired to play it safe, years of evolution has designed us to find the most comfortable path to living and sticking to it, and while its got us so far, we cannot follow it forever. Eventually, the theory of diminishing returns takes hold.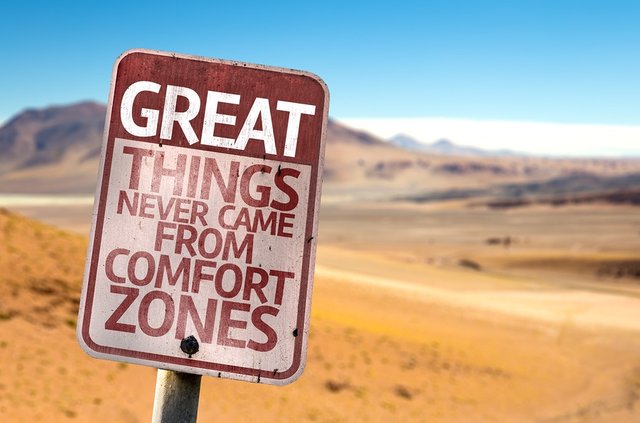 Image source: - lifeoptimizer.org
But it's so good to be cosy
I know it's great to do what you're comfortable doing, to never be under threat never to be put in an awkward situation, the trappings are real, and its one of the fights many give up on very quickly.
It's one of the reasons we're so easy to control that we prefer being told what to do, the reason we have a 1%, we're all complicit in allowing those who are willing to move out of their comfort zone, legal, ethical or not is a debate, but we watch them leave it and take what they want while we wait for our allocation.
It's the reason why we're wrecked with inaction. So many of us are talkers, we talk about what we could, should and would do, but never do, our comfort zone is the most dangerous to our ambitions and reduces our quality of life, it does not enhance it despite what you may feel and think.
Fact is, if you're not progressing, you're regressing! So just do it, they were going to talk shit about you anyway! Get to the point where anyone would stop and continue going; there's more to it, don't you owe it to yourself to see how far you can go?
If not, that's fine, but then shut the fuck up and stay in your zone! I don't want to hear your sad story and complaints; I want to see people winning!
Have your say
What do you good people of HIVE think? Do you stick to your comfort zone?
So have at it my Jessies! If you don't have something to comment, comment "I am a Jessie."
Let's connect
If you liked this post sprinkle it with an upvote or esteem and if you don't already, consider following me @chekohler and subscribe to my fanbase
| Browse & Earn Crypto | Donate LikeCoin For Free | Earn Interest On Crypto |
| --- | --- | --- |
| | | |
---