Hey Jessoviet Union
I grew up in a socialist household; I think you can tell since I'm named after a commie sex symbol Che Guevara. While I am willing to proudly carry on the tradition of being a sex symbol, I'm not one to carry socialist ideals. I've always leaned more to capitalism, and as a business owner, it's only driven me further down that frame of thinking.
Both ideologies have good intentions but have different ways of getting there, and I don't think either one is bad or good, I just think both fail when done at scale and when done half-heartedly.
The problem with both ideologies is that they cannot be implemented correctly under the way money is controlled, managed and distributed and it's a horrible middle ground that only benefits the bankers, money creators and debt markets.
Shoddy Implementation
I feel like so much time, and energy has been wasted debating the pros and cons of each when the implementation of it has been flawed. I think that these systems cannot scale without massive corruption extracting value and bastardising it and that their needs to be a collection of people on each side in each region, keeping the other from becoming inefficient.
If some people choose socialism, and some people choose capitalism, they can allow those who agree or disagree to move to the system that suits them best.
That way we don't have migration based only on trying to extract resources somewhere else for a better life but moving because you want to live in a place that wants to achieve a better life by means of the ideologies you agree with and you would want to participate in with their labour and time.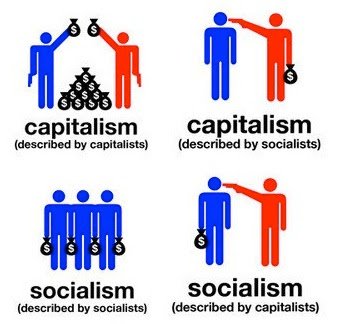 Image source: - jobsanger.blogspot.com
I think the idea of nations running economies has reached its expiry date and the first victim will be the Euro and the European Union, the biggest centrally planned economy in the world. I think for either system to be efficient a collection of people be it a city, province, state or nation need to agree on the system they want to work under and then work towards that goal.
Have your money reflect your ideas
If you want socialism, then go with fiat money but have it pegged to something, so it is not a debt-based economy and has its limits. Tax who you need to tax, distribute to those you need to distribute to and run your system.
If you want socialism, have hard money and have those competing for hard money by producing goods and services. Have no taxes and have no safety nets and let people own their money that provides deflationary protection and drives encouraging of savings even when the marketplace is consumer-driven.
Then let the people decide which system they want to live in and allow for spin-offs and forks where people want a hybrid with some socialist traits and some capitalist traits.
That, to me would be the real free market.
Have your say
What do you good people of HIVE think? Is it time for a completely free market?
So have at it my Jessies! If you don't have something to comment, comment "I am a Jessie."
Let's connect
If you liked this post, sprinkle it with an upvote or esteem and if you don't already, consider following me @chekohler and subscribe to my fanbase
| Browse & Earn Crypto | Donate LikeCoin For Free | Earn Interest On Crypto |
| --- | --- | --- |
| | | |
---