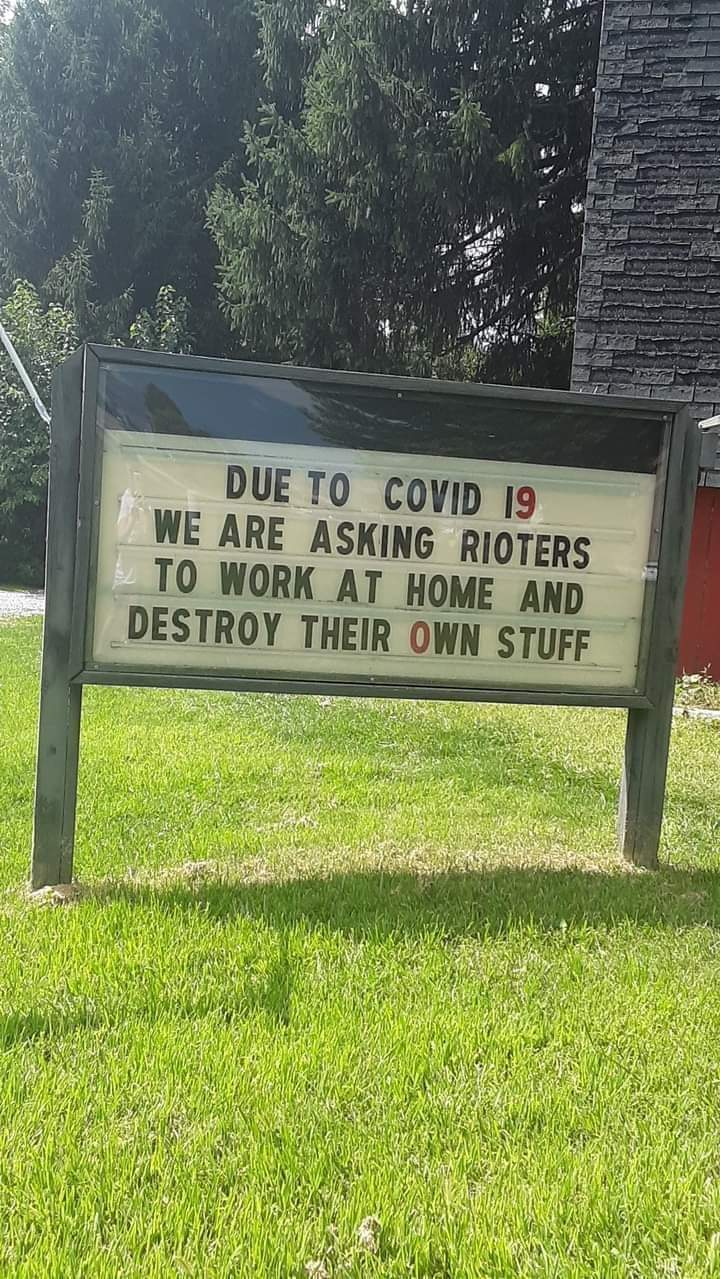 I KNOW THAT ALL THESE AMERICAN PROTESTORS JUST SIMPLY WANT THEIR VOICES HEARD AND I KNOW THAT THEY ARE ALL PEACEFUL LAW ABIDING PEOPLE WHO ONLY HAVE WARMTH, TOLERANCE AND RESPECT IN THEIR HEARTS. I KNOW THAT THEY ARE GOOD PEOPLE WHO SIMPLY WANT TO LIVE IN AN EQUAL WORLD WHERE WE ALL LIVE IN HARMONY.
I KNOW THAT THE TINY, TINY, TINY, TINY MINORITY OF AGGRESSIVE PROTESTORS WHO HAVE SEIZED ON THE ALMOST ENTIRELY PEACEFUL PROTESTS ARE ALSO NOT RIOTERS AT ALL REALLY AND ARE JUST TRYING TO EXPRESS THEMSELVES IN A TOTALLY PEACEFUL WAY BUT GETTING A LITTLE CONFUSED IN THEIR UNDERSTANDABLE EXCITEMENT TO BE HEARD.
AND I ALSO KNOW THAT ALL THEY ARE TRYING TO ACHIEVE IS A MUCH BETTER AND FAIRER WORLD WHERE NONE OF US EVER HAVE TO WORK AND WHERE WE ONLY ENJOY FOREIGNERS AS NEIGHBOURS, SO THE PROTESTORS DESERVE ALL OUR RESPECT FOR THAT.
BUT CAN I JUST ASK IF YOU ADORABLE LEFTY PROTESTOR GUYS, OOPS SORRY SLIGHT MICROAGGRESSION THERE, WHAT I MEANT WAS GUYS AND GIRLS BECAUSE I DONT WANT TO BE SEXIST, OH DAMN SORRY ANOTHER MICROAGGRESSION THERE AGAINST TRANSSEXUALS, WHAT I MEANT WAS PEOPLE, SO IF YOU ADORABLE LEFTY PROTESTOR PEOPLE COULD JUST STOP TRASHING EVERYTHING FOR ONE NIGHT AND STAY HOME AND BURN YOUR OWN HOME DOWN THAT WOULD BE FANTASTIC.
THANKS.